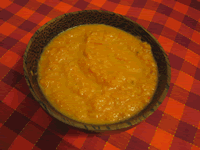 Onion Chutney
1/4 tsp. oil
1/2 medium to big red onion ( ca be yellow onion ), sliced or chopped
2 small green chili peppers, chopped
1 plum or small tomato, chopped
salt to taste
a little lemon juice
Heat the oil in a heavy sauce pan, saute onion and green chili pepper for few minutes, and add the tomato and stir until the onion start getting brown.
When the sauted onion cools down, put it into the blender with salt and lemon juice, and give it a couple whirls until they are all mixed and smooth.
It can be eaten with idli, dosai or any snack, like bajji, pakora, or rice.